Don't forget about my
GIVEAWAY
!
Because who doesn't love free things?
On the subject of "free" we at my house just got the
Free People August Catalog
, and I'm loving their style for the fall - gorgeous hair, lace details, and floppy hats galore! Enjoy...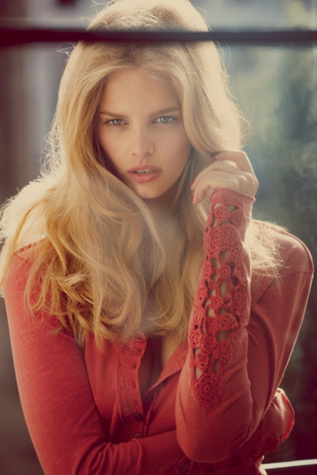 Gorgeous right? Too bad it's all so dang expensive... I'm especially loving the lace bloomers in this last photo, even though I'd have no where to wear them. No, I don't take tea on my patio in lace bloomers. How about you? Didn't think so... the things I'll be taking away from this catalog though are a need for lace and crochet, as well as a hankering (great word, right?) to make my hair more voluminous (don't all the models have such nice hair? If only.. well, Mckenna just gave me an Aveda Volumizing Tonic for my birthday, I'll let you know how that works out).
Guess who's working starting at 7:30 am tomorrow morning? Me! And I am oh-so-excited, just tickled pink. Except not at all. Well, that's a lie. I'm excited for my paycheck. And actually, today was a pretty fun day at Old Navy! I got to try on all the styles of jeans and be our resident denim expert. So, direct any of your Old Navy jeans-related questions to this girl right here. Have a good night :)